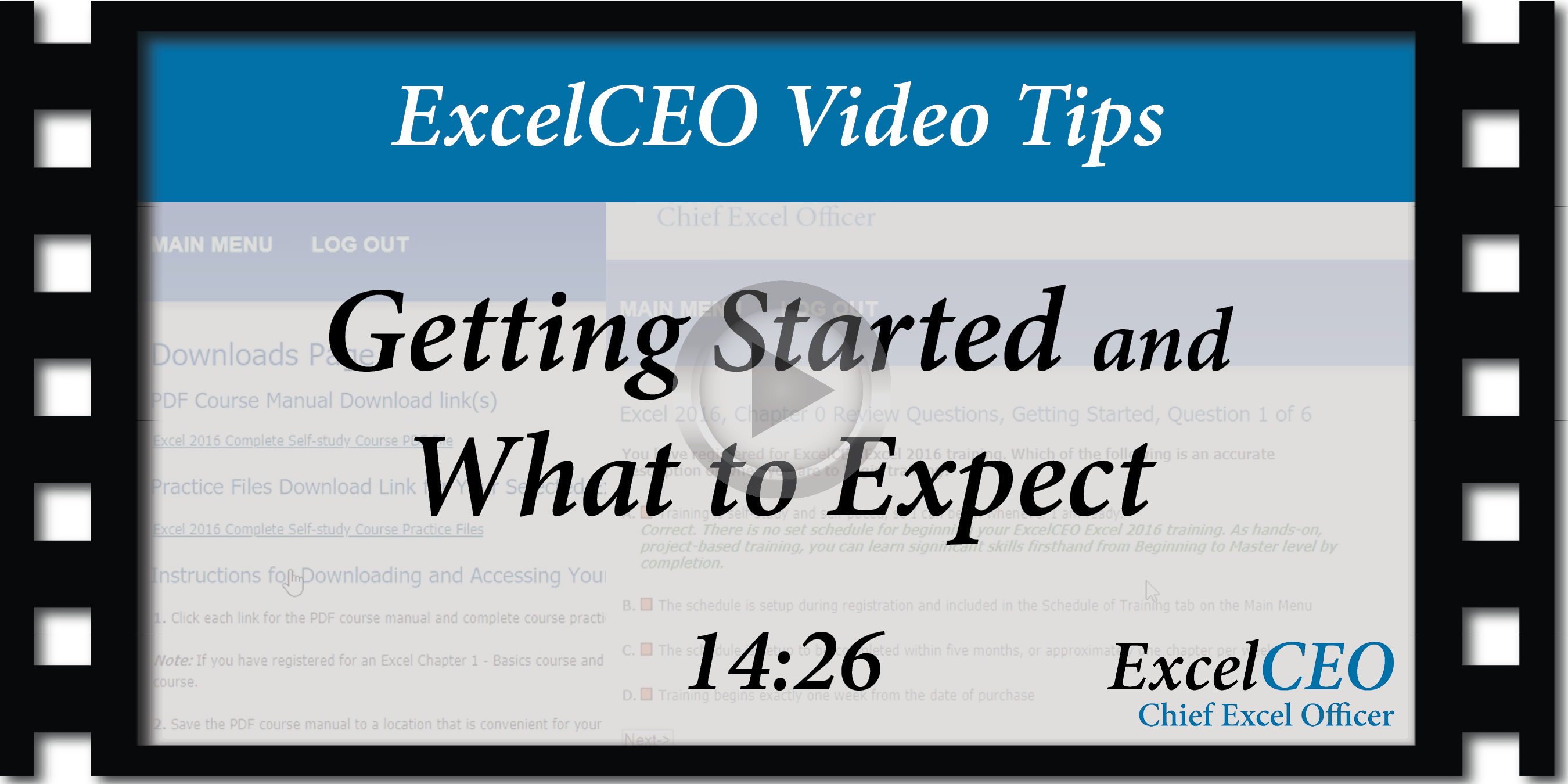 Register for ExcelCEO hands-on training and gain access to:
ExcelCEO training account - one per student - maintain access as long as you are registered.
  If you have team members who want to take ExcelCEO training, ask about group discounts!
Excel or Access and SQL complete self-study course PDF manual (download): easy-to-follow, step-by-step instruction text and hundreds of screenshot aides throughout.
Supplemental tutorial videos for Excel training to show you how a project is completed. After you see it done, master it for yourself with hands-on projects.
Pre-configured practice files and/or database for hands-on training (download)
Review Questions checkpoints within each of the 18 chapters of Excel (15 chapters of Access and SQL) training to solidify your understanding of the program.
Chapter exams designed to test your learning of the skills taught. Earn CPE credit along with the new skills as you complete each chapter!
Supervisor profile for tracking progress (optional)
Certificates tracking for CPE credit - this course qualifies for up to 40 hours of NASBA-certified CPE/QAS credit. NASBA self-study policy allows for one year from the date of purchase to claim CPE credit.
Graduate Verification at ExcelCEO.com as evidence of your Excel and/or Reporting and Analysis mastery! A printed certificate is available for each graduate.
Where These Skills Apply
Begin right away to learn skills that can transform your work and increase your value added:
| Job Category | Section | Description |
| --- | --- | --- |
| Administrative Assistant, Accounting Clerk, Office Manager, Bookkeeper, etc. | Beginning | This section teaches the things every office person needs to know – Excel basics, formatting, working with graphics and objects, flowcharts, sorting, filtering, subtotals, and printing. |
| Beginning Accounting or Beginning Financial Analyst | Intermediate | This section focuses on writing formulas. Writing formulas and using functions is the "lost art" of Excel, and knowing how to write serious formulas sets the experienced users apart from the novices. |
| Experienced Accountant, Senior Financial Analyst, or Consultant | Advanced | This section teaches a very advanced skill set, including PivotTables, data analysis, graphs and charts, macros, and working with the web. |
| Excel CEO (Chief Excel Officer) | Master | This section requires the student to complete a comprehensive project on their own. Upon completion of the project and the final exam, the student will have mastered the skills taught in the course. |
Your step-by-step process toward learning about Pivot Tables, Analysis Tools and Working with the Web opened up a lot of new possiblites on how to expand my usage of Excel in ways I really hadn't begun to comprehend.



I took a two day procedure and reduced it to 7 MINUTES using just the knowledge I gained in this course.



This Excel course is in a league of its own!



Jim's simple step-by-step style takes ANYONE to a Master's level in very little time.



I'm now the Excel GURU of any company I walk in to.



You just saved me 3 days of work by showing me how to use ONE FUNCTION. Too Cool!



I thought I knew Excel but after watching your free training video, I knew I had lots to learn. YOUR COURSE TOTALLY ROCKS!



The course more than paid for itself just after reading the tips and tricks in CHAPTER 1!



I learned things in this course that NO ONE in my office knows. Now everyone comes to ME for Excel advice.